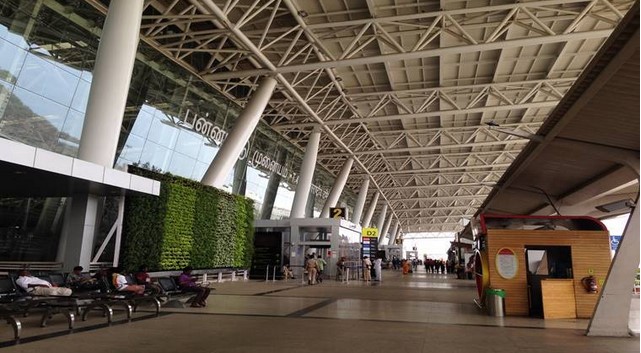 Arakkonam has very few places to visit and the majority of them are Temples, Arakkonam Comes under the Vellore district. There is another detailed Article which describes the Tourist attractions in and near Vellore District which I'll be discussing in another article.
This is a small town and has a railway station named as Arakkonam Railway Station and Temples like Thiruvalankadu Vadaaranyeswarar Temple and Sholingur Narasimha Swamy Hill Temple. There is also an airport in arakkonam.
Just 8-9 Km Distance from Arakkonam.
Places to Visit in and Near Arakkonam
Thiruvalankadu Vadaaranyeswarar Temple
Sholingur Narasimha Swamy Hill Temple
Tamilnadu is the only state in India where there is a maximum number of Temples which are more than the 1000-year-old, Many Temples also hold world heritage site status.
Tamilnadu is also known as Temple State and also rich in culture and Heritage of Ancient Indian Practices, This place is ruled by Sri Krishna deva Raya, Cholas and Pallavas For Thousand Years and later by British and French.
The State holds it's a stronghold in Tourist, Exports, and Imports of Goods, Chennai Port is the Second Largest Port after Mumbai Port in India and also Largest Film Industry and As well as Third Largest IT exports after Bengaluru and Hyderabad.
Places like Hosur, Salem, Coimbatore are famous for Hardware and Software Industries, It holds India's largest Silk, Cotton and Yarn Markets.
Tamilnadu Still Holds it's heritage by wearing traditional dresses like Dhothi and Sarees, Especially Salem Yarn and Cotton Markets and Kancheepuram Sarees are worldwide famous.
Many Industries and Manufacturing units like Hyundai, Honda are in Tamilnadu. Tamilnadu holds 2nd largest GDP in India and road connectivity is wonderful.
The Temple Architecture, Kodaikanal waterfalls, Crocodile park, Festivals, Forests, Valparai Trekking and Pollachi Shooting Spots there are large varieties to see in Tamilnadu Which Cannot Be Skipped.
The Real Estate market is evenly spread in Tamilnadu, Especially there are many two towns and one town which the rates are higher than Chennai.
The tourism Department is wonderful in Chennai, Ancient Temples, Rivers and Lakes, Dhanushkodi, and other Parks and View Points made almost 12 million foreign tourists visit Tamilnadu in 2019.