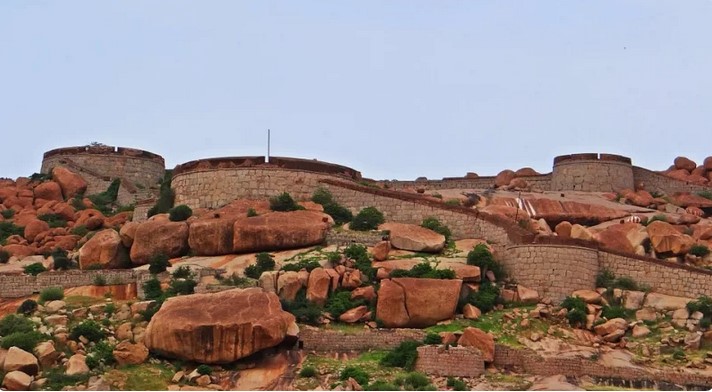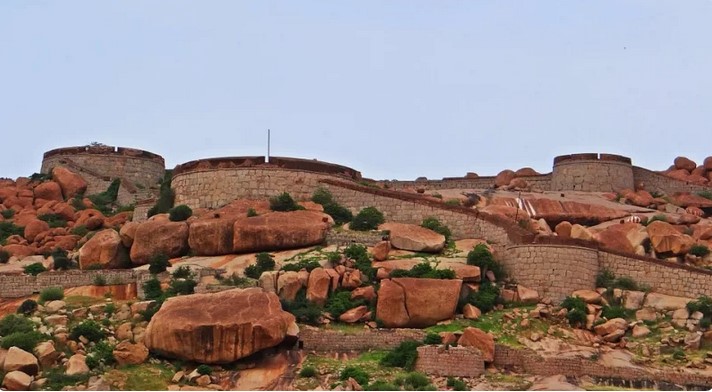 Bellary is known for it's Mighty Fort and also it's Iron Ore Reserves, Bellary is in the Border of Andhra Pradesh and Karnataka.
Bellary is the Capital of Vijayanagara Empire and Hampi is the City, The Architecture of The temples and Places are just Phenomenal Wonders in Bellary.
Especially the virupaksha temple and also other Carvings and the Giant Leg of Hanuman makes it a wonder on Earth.
This Place is a must visit in Karnataka and also try to spend at least 7 days if you are interested to Explore Bellary.
65 Tourist Places to Visit in Bellary
Sree Virupaksha Temple, Hampi
Vijaya Vitthala Temple
Matanga Hill
Lotus mahal hampi
Stone chariot
Elephants stables
Daroji sloth bear sanctuary
Hemakunta hill temple
Hazara rama temple
Ballari fort
Hampi Archeological Ruins
Laksmi Narashimha Temple
Achyutaraya Temple
Hampi Bazaar Street
Kadalekalu Ganesha
Yantrodharaka Hanuman Temple
Mahanavami(dasara) Dibba, Hampi
Saasivekaalu Ganesha
Queen's bath place
King's Balance
Hampi Karnataka
Underground Shiva Temple (Prasanna
Badavilinga Temple
Royal enclosure
Nandi
Tungbhadra Dam And Garden
Sri Krishna Temple
Pushkarani
Stepped Tank
Malyavanta Raghunatha Temple
Octagonal Bath
Ranganatha Temple
Kaladham
Sugriva's cave
Pattabhirama Temple
Sunset point Hemakuta
Shree Varaha swami Temple
Kumaraswamy Temple
Talarigatta Gate
Palace of Vira Harihara
Purandaradasa Mantapa
Pampa Sarovar
Krishna Bazaar
Ancient Kunthunath Ganagitti Jain Temple
Virupaksha Temple East Gopura
Kamalapur Lake
Narihalla River
Hampi Archeological Museum in
Kalleshwara Temple Hire Hadagali
Dr.Vishnuvardhan Park
King's Audience Hall
Queen's Palace Basement
Kumbara Gudda
Stone Chariot
Navabrindavana, Sri Padmanabha tirtha
Sanapur Lake
Kishkinda Water Park, Anegundi – Karnataka
Huligemma Devi Temple
Anjaneya Hill, Kishkinda, birthplace
Gagan Mahal
Chinthamani Temple
Tungabhadra Bukka Aqueduct Hampi
Anjanadri Hill
Pampavana Park
Mukteshwara Temple
Karnataka is the Southern State of India and the Tourist places it holds is just next to Kerala, This State is very famous for Temples and It's a unique architecture, Also Bengaluru is it's State Capital and also it is the only city in India which is above 1000m Elevation from Sea Level which makes it a very cool place to live and also the parks and greenery surroundings make it the very best place to live. Within a 100kms radius from Bengaluru, there are many Lakes and Beautiful Places to visit.
Tourism plays an important role and also Contributes a major share in the GDP of the state, Temples, Beaches, Hill Stations, Waterfalls, and beautiful locations all form up and makes Karnataka a wonderful Experience. That is the reason the Tourism Department of Karnataka made a slogan, That Karnataka is "ONE STATE MANY WORLDS" Which means in this one state there are many places to visit which are almost equal to separate worlds.
Karnataka was ruled by Vijayanagara Empire and also Mysore Kinds, During the 1600's There Capital is Hampi which is in Bellary, The State has many Palaces and Museums, Which are during the Vijayanagara Empire period, Many Other Kings like Tippu Sulthan, Sri Krishna Devaraya Ruled this place and that is the reason it is called as Palace State, There are many Palaces and Museums in Karnataka which is a must-visit.