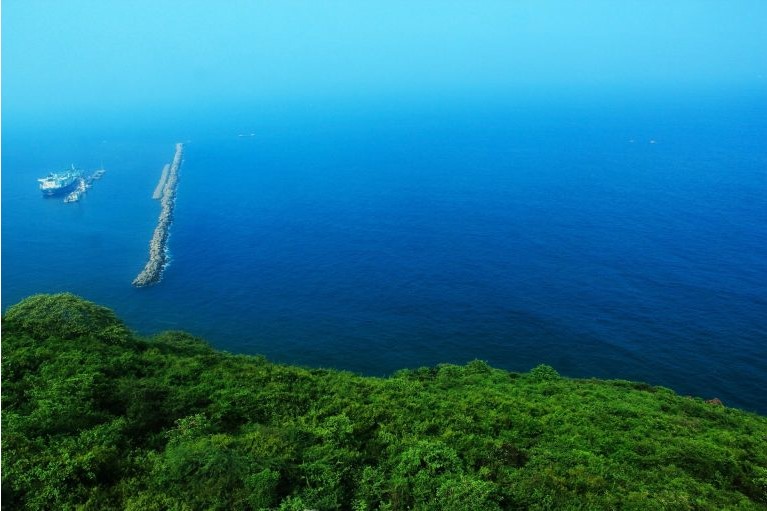 Vizag is also Known as Vishakapatnam Formerly and Recently Changes its Name just like Mumbai for Bombay, Or Chennai for Madras.
Vizag has the Largest Sea Port and it is the Second Largest after Chennai Port, The Portuguese first Landed in Calicut in Kerala, and Second, they landed in Vizag around 1606.
The Marine Engineering and Indian Navy is Very Strong in Vizag, INS Vikranth which blasted INS Ghazi is now made as a museum, There are Many Beaches in Vizag to visit.
Tourist Places in Vizag are plenty, Rishikonda Beach, Dolphin House, Kailasa Park, and Also Borra Caves, and Araku is just 100kms away from Vizag.
Top Tourist Places in Vizag
VMRDA INS Kursura Submarine Museum
Indira Gandhi Zoological Park
VMRDA Kailasagiri
Yarada Beach
Rushikonda Beach
Sri Varaha Lakshmi Narasimha Swamy Vari
Ramakrishna Beach
Dolphin's Nose Lighthouse
VUDA Park
Visakha Museum
Bheemili Beach
Thotlakonda
Kambalakonda Wildlife Sanctuary
Bojjanna Konda
Tenneti Park
Victory At Sea War Memorial
Ramakrishna Beach (RK Beach)
Red Sand Hills
Thotlakonda Beach
Kondakarla Bird Sanctuary
Titanic Sea View Point
Fishing Harbour
Thotlakonda Ancient Buddhist Monastery
Katiki Waterfalls
Araku Galikonda View Point
Tatiguda Waterfall
Borra Caves
Arisavilli Sun Temple
Srikurmam Temple
Andhra Pradesh is the Southern State in India, AP was the 4th Largest State in terms of Area in 2014, But when Bifurcation Happened it's rank dropped from 4th to 7th, With 1.6 Lakh Sq Kms.
But Andhra Pradesh has Beautiful and Wonderful Places to Visit, Especially Temples are more famous in Rayalaseema and Rivers and Lakes are More in Andhra Pradesh. The Godavari Districts have Mangroves which are the Second Largest in India.
There are Many Places to Visit in Andhra Pradesh like Caves, Lakes, Rivers, Forts, Palaces, Hill Stations, Rocks, and Many More.
Andhra Pradesh is the most Under-Rated Place for Tourism in India, There are Temples with great architecture and also good history, But is Underrated because The Tourism Department has Neglected and Couldn't maintain and develop Good Foundation for Tourism in Andhra Pradesh.
This State has the Second Largest Coast in India, After Gujarath, and Six Airports that are up and running. Andhra Pradesh has its own Kashmir Valley which is known as Lambhasinsi near Araku, Recently they have also started Coffee, Tea, and Pepper Plantations in those Regions.
Kadapa, Kurnool is Famous for its Caves and Unexplored places, There are many places like Srisailum which the hill is very long, and also the Nallamala Forest, Which comes under the Eastern Ghats and goes till Dindigul Tamil Nadu, The Wild Life habitat and also home for different species and Birds.
Nellore is Famous for Kolleru and Pulicat lakes, Which are known as Fresh Water Lakes, Kakinada has Mada Mangroove Forests, Both are famous for Flamingo Birds migration which comes from Far West.
Srikakulam and Vijayanagaram have many Temples and also Hill Stations which has very Green Landscapes, Gandikota in Kadapa is Rock Hills is Known as " Grand Canyon Of India", Anantapur District also has a Desert which is Growing Very fast and the Government started a Solar Power Plant.
Chittoor District is the Border District of Andhra Pradesh and Tamil Nadu, Tirupathi is the famous Temple for Hindus, Lord Venkateswara, The Sixth Avatar of Lord Vishnu is residing here and it is the famous pilgrimage for Hindus, Is in Chittor District.
All in All, Andhra Pradesh Tourist Places are Mix of Many Natural Scenic Beauty and Architectural Brilliance of Temples.
Besides all this Andhra Pradesh is also famous for its Cuisine like Pesarettu Upma, Poori Bombay Chutney, Idly, Masala Dosa like Break Fasts, Andhra Meals, Rayalaseema Spicy Curries, Ragi Sankati and Drinks like Ice Soda, Rose Milk, etc.