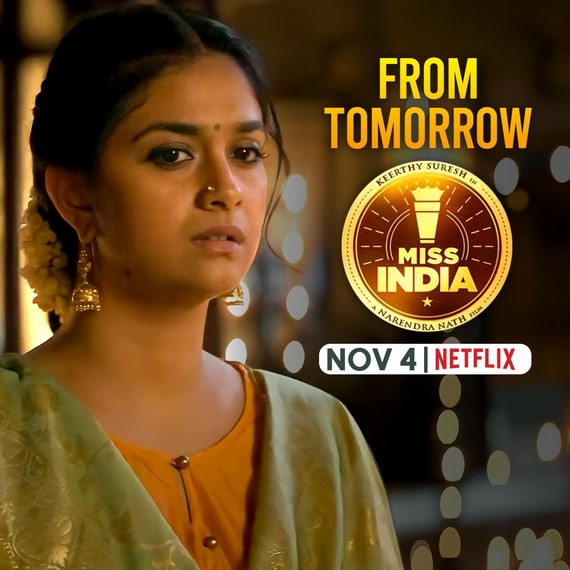 Review : 2/5
Cast: Keerthy Suresh, Jagapathi babu, Nadiya,Naveen Chandra
Director: Narendranath
Producer: Mahesh Koneru
Production:East Coast Productions
Music: Thaman.S
Miss India Movie is out and also it's review, was originally scheduled to Release on April 2020, But Due to Covid reasons all the movies were stopped, and many movies like Nani's V and Krishna and his Leela were released on OTT platforms like Netflix and Amazon Prime, Now Miss India is also released on Netflix, As Theatres are going to open in the Mid-month of December or maybe Christmas, But as the makers Got a Good deal from Netflix they sold out the movie for the whooping price of 25 crores and It is released today on November 4th. The movie was released on the world time 12AM, But as it happens at 12AM in Australia, simultaneously it is released in India at 7 PM, So Review is pretty early.
Synopsis
Samyukhta(Keerthy Suresh) completes her MBA and works as a consultant in a Company, Her Brother, Mother, and Father All work at simple wages and moves the family, But Samyukta aims to do a business in her life, Knowing this her Mother and Brother warn her to completely erase the idea of Business because of the dangers which they think might collapse the entire family, But Rajendra prasad (Grand Father) of Keerthy Suresh Encourages and fills a positive spirit in the heart of Keerthy, Which makes her to Full Fill her dream and flies to Italy, Where she plans to sell Indian Chai with the brand name Being Miss India, Eventually she faces certain hurdles but succedes later, Then Arrives KSK(Jagapathi babu) who challenges her that either to sell her company to him or he may destroy her whole career, Which then Keerthy makes a decision to fight with Jagapathi babu either She Wins over KSK or Fails as usual like many other Businessman's forms the rest of the story.
Performances
Keerthy Suresh again Proves she is a Mahanati in this Movie, Especially the way she manages the house with a dissatisfied Job she is doing and also the way she conveys the message to her mother is very appealing, All other characters like Naresh, Nadiya performed excellently, Naveen Chandra as start-up funder is electrifying. Jagapathi Babu as a corporate villain did 100% Justice to his role.
Technical Performance
The one man who has to be given a great Hug is none other than Music Maestro Thaman.S, Ever since his Meteor success of "Ala Vaikuntapuramlo" He has Completely changed his path and his BGM, Music is one of the main pillars for the Movie, DOP Sujith Vasudevan is Top Notch and Camera work is fantabulous, Director Narendranath as a debutant proved his might and all he has to do is now just wait for a call from Star hero to get kicked, The Scenes near the Dock is really well captured by Director. Production by Mahesh Koneru is very neat.
Conclusion
Miss India is not a Name, It's a Brand And the first Disaster from Netflix for Telugu Movie.