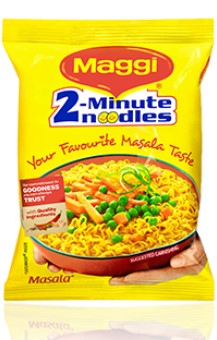 Maggi Noodles Recipe and How to make within 10 minutes is here.
As Marketed by the Company, The Noodles doesn't take 2 minutes to cook but more or less takes 10minutes.
Lets not bore you with the Explanation and directly jump into preparation
Ingredients
Vessel
Maggi Packet
200ml / Glass of water
Maggi Preparation
Add 2 spoons oil in a frying pan and let

mustard

seeds and cumin crackle.
Later add carrot and capsicum and cook until soft.
Add 1 tomato along with curry leaves and coriander.
Cook until the vegetables become semi-soft.
Now add 200ml / 1 glass of water and put the flame on high.
After a few minutes when water boils put the flame medium.
Add 1 packet of noodles packet.
Wait for few minutes until noodles become semi-soft.
Then add masala packet and cook for 2 minutes in medium flame.
Serve hot in a bowl and enjoy.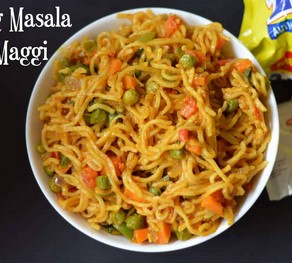 Other Recipes
There are also other maggi noodles recipe's which are now available in the market.
Atta noodles , Pepper noodles and other's like cup noodles.
Don't buy cup noodles it is utter waste of time.
No other noodle packet comes closer to maggi masala , Like top raman and wai wai couldn't create the magic .
Visit this for more updates.